Tasks
English/Danish and Danish/English translations, e.g.:
Contracts, agreements, writs, documents to be used in lawsuits and trails etc.
Birth certificates, marriage certificates, divorce decrees etc.
Curricula vitae, certificates, diplomas etc.
Financial statements, management letters, long-form audit reports, reports and summaries from the Danish Business Authority etc.
Prospectuses
Company profiles, business letters etc.
Technical manuals, user instructions etc.
Certified translations
Editing
If you need a professional translation into, from or between other languages, we will be happy to refer you to one of our many qualified colleagues.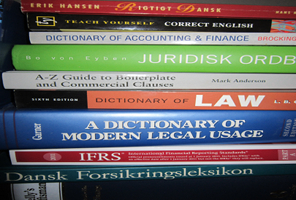 We are commited to excellence!