State-authorised translator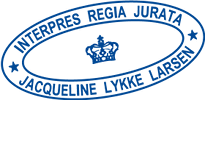 A state-authorised translator is your guarantee for quality
State-authorised translators have a Master's degree from a Danish business school (or have passed a special translator's examination) and have been certified by the Danish Business Authority to use the title "state-authorised translator" or "official translator". Only persons with the above qualifications are permitted to use this title.
When a translation is certified it means that the translator with her/his official seal and signature certifies that the translation is a true and faithful translation of the source text. Only state-authorised translators are permitted to translate and certify documents to be used for legal purposes.
Confidentiality
All documents, drawings etc. received from you will be treated as strictly confidential. A state-authorised translator is bound by professional rules of secrecy prescribed by law.